To get your debts under control you have two choices; either manage your
own debt or find the best debt management plan that you can. If you find that you are not very disciplined at following a budget I would recommend the latter. Below I have outlined a couple options that I consider to be the top debt management plans that are offered.

Accredited Debt Relief provides multiple options such as bankruptcy consultation services, debt consolidation, debt management and debt settlement services. They have over 20 years of experience in the debt relief and financial services industry.
Accredited Debt Relief has an A+ with the BBB (Better Business Bureau) and their members are all AFCC (American Fair Credit Council) accredited. They are listed as one of the nation's top-rated debt consolidation companies in ConsumerAffairs.com, ConsumerAdvocate.com, BestCompany.com, Top10DebtConsolidation.com, and ELegitimate.com.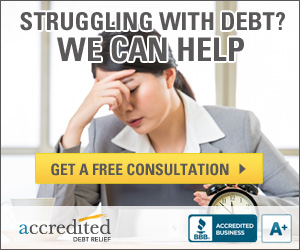 Accredited Debt Relief has posted their settlements that their negotiations team has achieved on their website with some of the largest financial institutions. They offer loans in the following states: AK, AL, AZ, CA, DC, FL, IN, MD, MI, MO, NC, NE, NM, NY, OH, OK, SD and VA. Accredited Debt Relief does not provide the debt relief services, they have a network of partners that they match you with.

Curadebt provides a wide range of services such as debt relief, debt settlement program, tax debt relief for IRS and state tax debts, debt negotiation and debt consolidation programs. Curadebt provides debt relief services to all states except the following: CO, CT, GA, ID, IL, KS, ND, NH, OR, SC, VT, WA, WI, and WV. In addition, their tax services and not provided in CO or IL.
There is a wealth of information on their website; they even provide information on how to select a reputable debt relief and tax resolution company.  In addition, they have a lot of information about their different plans and services with definitions about each type of service. I found their website to be very informative.
Curadebt has been in business for over 16 years and they have excellent reviews from their previous clients. What sets them apart from other companies is that after you successfully complete their debt relief program they give you an opportunity to work with a credit restoration company. For the past 9 years, Curadebt has been rated #1 or in the top 2 in Top Consumer Reviews for "Best Debt Relief Companies".

The Curadebt program has also integrated with FDCPA/TCPA (Fair Debt Collection Practices Act/Telephone Consumer Protection Act) protection which can result in monetary rewards for their clients in addition to debt dismissals. They are certified members of the AFCC (American Fair Credit Council), IAPDA (International Association of Debt Arbitrators), US Chamber of Commerce and more.
Curadebt's prices are on average 20% lower than that of other debt relief companies and programs.
In short, if you are contemplating using an agency to help you resolve your debt issues the above options are top-rated resources. If you have any questions or comments feel free to leave them below, I will get back to you shortly.