Best Budget Programs
Maintaining a budget can be a lot of work, but it is not impossible. In the past, budgets were handwritten, which took a very long time. Not only did handwritten budgets take a long time to put together, they also were prone to many errors. Thankfully, presently writing budgets are a thing of the past, for most of us at least. Now, we are able to plan our budgets with the help of technology. The best budget programs have a user-interface that makes it easy for even the least technology savvy person to use.

There are different programs available, however, one of the best budget programs is Intuit's Mint and Quickbooks. Intuit is also the maker of Turbotax which I talked about in my earlier post. Below I will give you more details on each of their products.
Intuit Mint is a very powerful budget platform that has many facets. This platform allows you to easily create budgets with suggestions that are based on your spending habits. Mint also tracks and pays your bills. Additionally, you can schedule payments and set up alerts that notify you when your payments are due. There is a built-in credit score monitor with improvement tips. There is no credit card required for this service.
Intuit Mint also keeps track of your money; you can link your bank accounts, credit cards, retirement and investment accounts all in one location. This alleviates the need to log into numerous accounts to pay your bills and manage your money or investments; you can do it all with Intuit Mint. There is also an app that you can download onto your phone.
Intuit QuickBooks is an accounting platform that is very user-friendly. With this program, you can track your money for both your business and personal accounts. QuickBooks enables you to stay on top of your business(s) mileage, income/expenses, invoicing/payments, payroll, track time/sales/inventory, track receipts. QuickBooks also helps you maximize your tax deductions.
There are four different products; self-employed, simple start, essentials and plus. The prices range from $5-25/monthly. You can click here for a 70% discount.
QuickBooks also has a Canadian portfolio with all the same features and benefits that are discussed above. The only difference is that they have three products; EasyStart, Essentials, and Plus. The prices range from $6.50-$12/monthly. These are Black Friday sale prices and will increase on November 29, 2017. This is up to a 70% discount; you can take advantage of these prices by clicking here.
Spentapp or Spent Money is an application that helps you manage your  finances and with the money that you are already spending on your daily purchases you can earn cash back. This is in addition to any existing loyalty accounts that you have previously set up already. Spentapp has partnered with thousands of financial institutions to enable their users to securely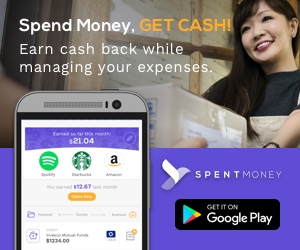 connect all credit and debit accounts; these will automatically earn cash back from everyday purchases made.
Once your accounts are linked, your transactions are then categorized. You do have the option to update these categories as well as create additional folders to help classify your expenses. Spent Money analyzes your expenses and makes it easier for you to pin point opportunities for savings. You can separate your business and personal expenses.
Additionally, Spentapp allows you to personalize your cash back options; they provide a list of featured brands monthly of which you can choose from. There are companies such as Amazon, Uber and Walgreens just to name a few. You earn an automatic 1% cash back and up to an additional 15% cash back when you use your connected debit/credit accounts. This is an awesome application and can make your debit account work just like a cash back rewards credit
card.
Spentapp for business allows for simple expense reporting; employees can report expenses up to $75 and capture and submit e-receipts. There is an administrator dashboard which enables expenses to be reviewed and approved. Additionally, there is detailed analytics provided for company expenses. There is a free version as well as a Pro version which costs $4/month; where Pro is integrated with QuickBooks. You can get Spentapp for business by clicking here.
The budgeting programs that I recommended above I personally use and they are great products. If you have any questions at all feel free to leave a comment below.